Community Currencies
An Invisible Structure in Permaculture Design
June 2, 2018 - Sharing Farm
Money is a Permaculture Sector in all Designs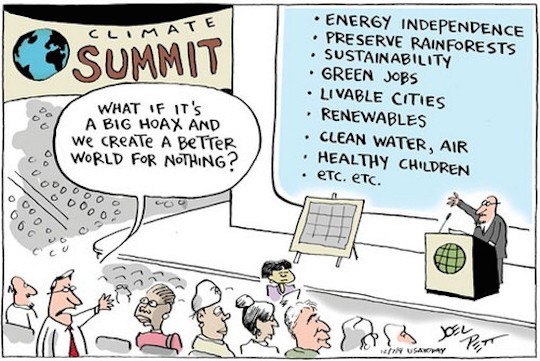 Permaculture works on everything and at every level
We can design and redesign our money systems

it is legal and everyone is now doing it!
this presentation is NOT about capitalism nor its alternatives.
but it will very much involve "capital"
What do we mean by Capital?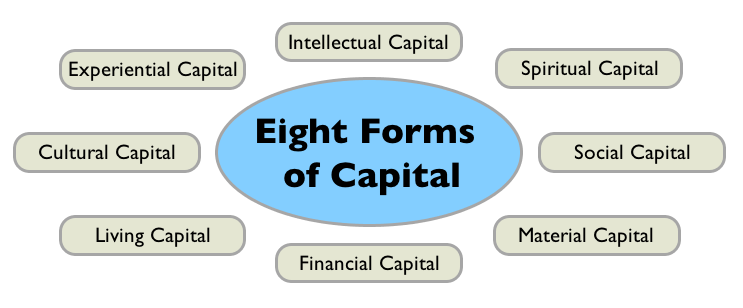 Let's avoid misunderstandings: when you hear "Capital" that is what I mean
Thanks to Roland Ethan and Greg Landua - Appleseed Permaculture Farm

Physical Address in New York: 9 Old State Route 213,High Falls, NY 12440

older version is: Financial, Social and Environmental
You are encouraged to make your own list of forms of capital
What is your map of money?
Everyone has their own definition of money (which can be confusing)

Let's apply Permaculture thinking to this!
Observe and Interact with Money:
Money's core dimension is Transactions: Past, Present and Future:

Past: transaction trends (stats, accounting): the trend is the designer's friend
Present: current transactions: designer needs a matchmaker as catalyst
Future: capital (potential for future transactions): obtain a yield

Transactions happen in the context of Circles:

Transactions: agreements between members of a circle

circle: neighbourhood community, nation, firm, csa, club, church, municipality, etc.

using Currency:

abstract idea, placebo symbol: a shared belief among members of a circle

to yield up to 8 forms of Capital:

accumulate treasures claimed by members of a circle (or for the circle itself)
Observe and Interact with Money:
Money is:
* agreements betweem members of a circle,
* using currency lube
* to transform their capital into forms
* more aligned with the circle's mission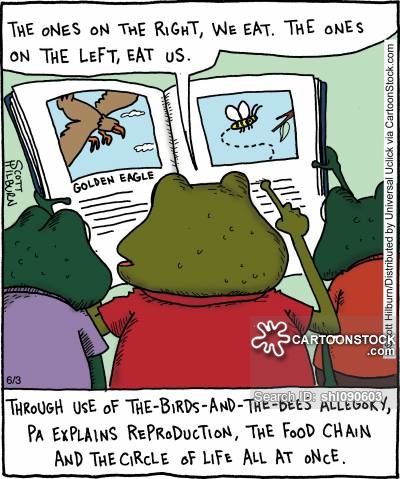 What is currency?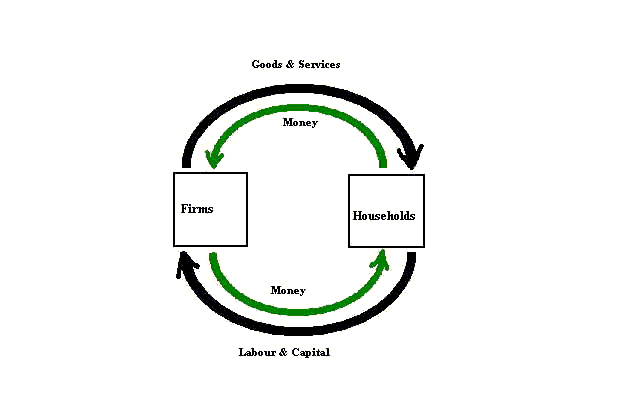 Currency = flow (goods and services in one direction, symbolic currency in the other).

invoices in one direction and receipts in the other
the currency itself can be destroyed (or forgotten) after it has accomplished its job
sometimes currency is embedded in capital and that complicates things greatly
national governments usually want to be a party to all significant transactions
What is currency?
Currency is an invisible structure

it does not exist; a useful figment of our collective imagination
nonetheless very efficient for getting things moving or happening (good or bad)
origin of mathematics, contract law, and cities
the currencies that gave rise to New York are long forgotten. NY remains.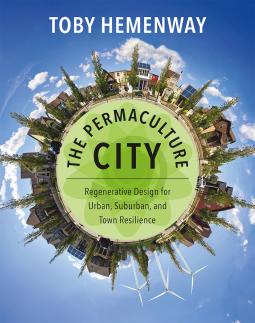 Examples of Currency:
Currency is the grease that allows goods and services to circulate WITHIN a Circle
Some Types of Currencies and their circles:

National Currency: USD (USA++), CAD (Canada), EUR (Europe+), etc
Love (healthy families and circles of friends)
Time Currency (Timebanks groups, LETS groups)
Municipal or Regional govt Currency (local citizens)
Global Currencies: love, carbon credits, gold, USD, euro, karma, IMF SDR (Special Drawing Rights)
Loyalty Currencies: air miles, Canadian Tire bills, gift cards, transit tickets
Capital Raising Currencies: crowdfunding, shares, stock, CSA, micro-ownership-real-estate
GHG reducing Currencies: carbon offsets
The Yin-Yang Spectrum of Currencies
| | |
| --- | --- |
| Yin Currencies | Yang Currencies |
| Fear | Trust |
| Exponential curve | Sine curve |
| Tax | Gift |
| Competition | Cooperation |
| Efficient | Appropriate |
| Quick Profit | Long Term Improvements |
| Scarcity | Abundance |
| Debt | Mutual Credit |
| Interest | Demurrage |
| Long Distance Trade | Building Community |
| Abstract | Material |
| Map is not Territory | Gifts Come with Expectations |
| Account (-ing) | Count me in / Count on me |
The gender of Currencies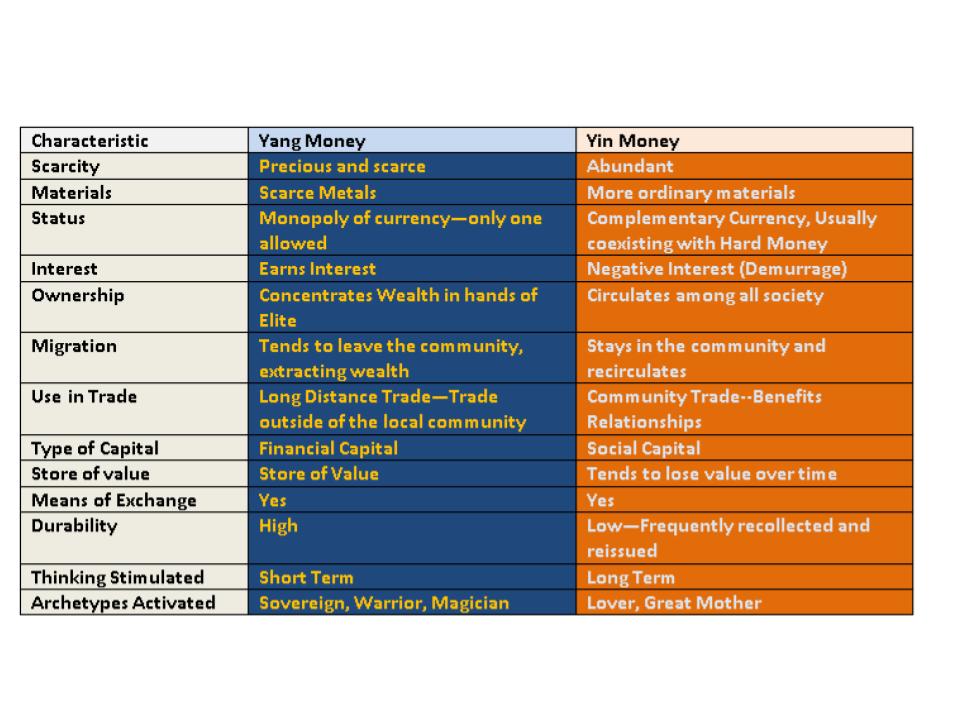 DaVinci TaiChi
Currency Swales:
Swale

national currency can take a very long time to complete the circle
we can design swales to capture and hold it longer to irrigate our projects
this is the same idea as "buy local" campaigns
A more realistic picture of Currencies
the key to success is to keep the flow moving in circles (aka Circular Economy)

but some areas flow out to other areas and never come back, or come back too slowly
ethical economics is the art of keeping the flow as circular as possible, irrigating all members of the interconnected circles
wealth only comes from healthy circular flow of currency
decline comes from blocked flow (ex: rulers that force people to pay taxes in a currency they do not have)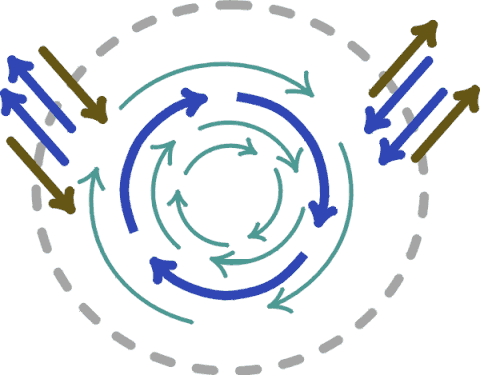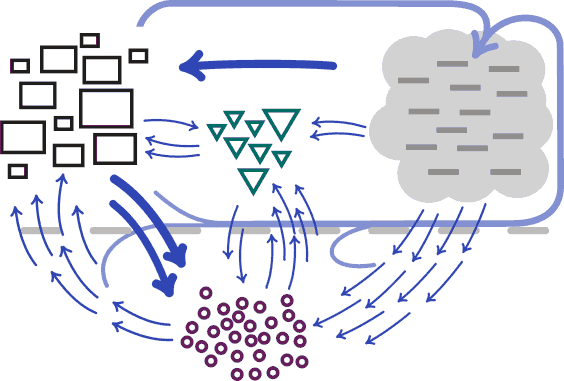 Example of Currency Circle
Walmart -> China Factory -> China Bank -> US Bonds -> US govt spending -> US people -> Walmart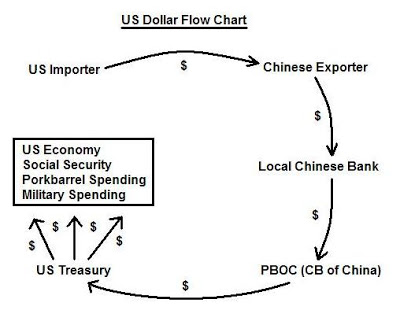 Stories can be a Currency
story: an account of events describing changes in or exchanges between characters
accounting journal: a revealing story deducted from a bunch of exchanges measured in some currencies

first written stories (ancient mesopotamia)

PROTO-SUMERIAN TABLET (3000BC) recording the rations allotted to a total of 40 men in the course of a five-day week. The signs farthest to the left in the top three rows indicate «Day 1», «Day 2» and «Day 3». Each of the men received rations equivalent in value to 2 minor units of barley per day. Barley was the currency of the period.
Timebank using Time as Currency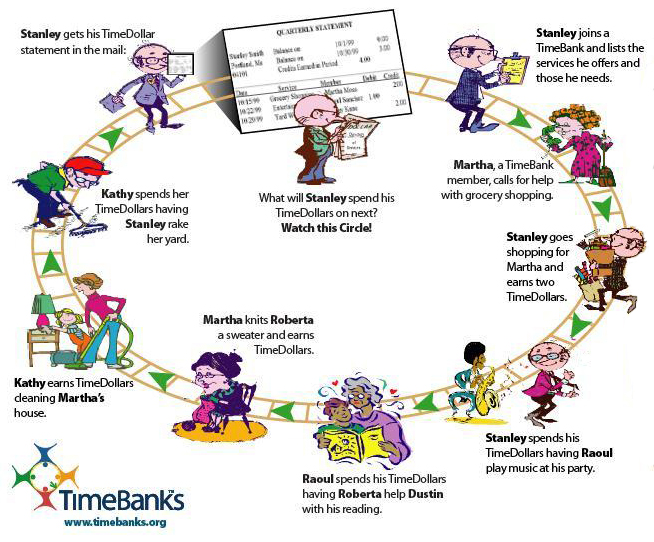 * entirely legal * note: legal tender is a currency that has to be accepted for payment * Tax collectors want their share of transactions beyond neighbour giving occasional hand to neighbour
Seedstock Story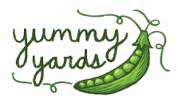 to join the seedstock community market, Homesteader's Emporium and Yummyyards gave IOUs to Agorabora (in seedstock currency)
Agorabora's Jordan and Paola used it to take Delvin's Permaculture Design Course
I gave presentations on community currencies at Delvin's PDCs in exchange for seedstock
I spent them at the Homesteaders' Emporium (for tools) and yummyyards' CSA box program (25% seedstock, 75% CDN)
Sweet Digz Farm - SDZ Bucks currency
growing food is like printing money
earlier this year, SDZ created a loyalty card called SweetDigZ bucks:

farm customers bought the cards for $200 and got $220 worth of food throughout the season (ongoing, no time limit)
uses a refreshingly "super luddite sticky dot" accounting system

SDZ farmers also use smaller denomination cards as gifts (wedding, birthdays, donations to striking teachers etc)
SDZ farmers offer SDZ bucks as work-trade arrangements (ex. currently mostly striking teachers)
Sweet Digz was able to purchase tools and compost to double their produce compared to last year
SDZ farmers report average purchases jumping from $13/visit for pre-card users to SDZ 30/visit
they also report a big increase in community feeling and fraternity (and an unexpected Farmer's Market effect)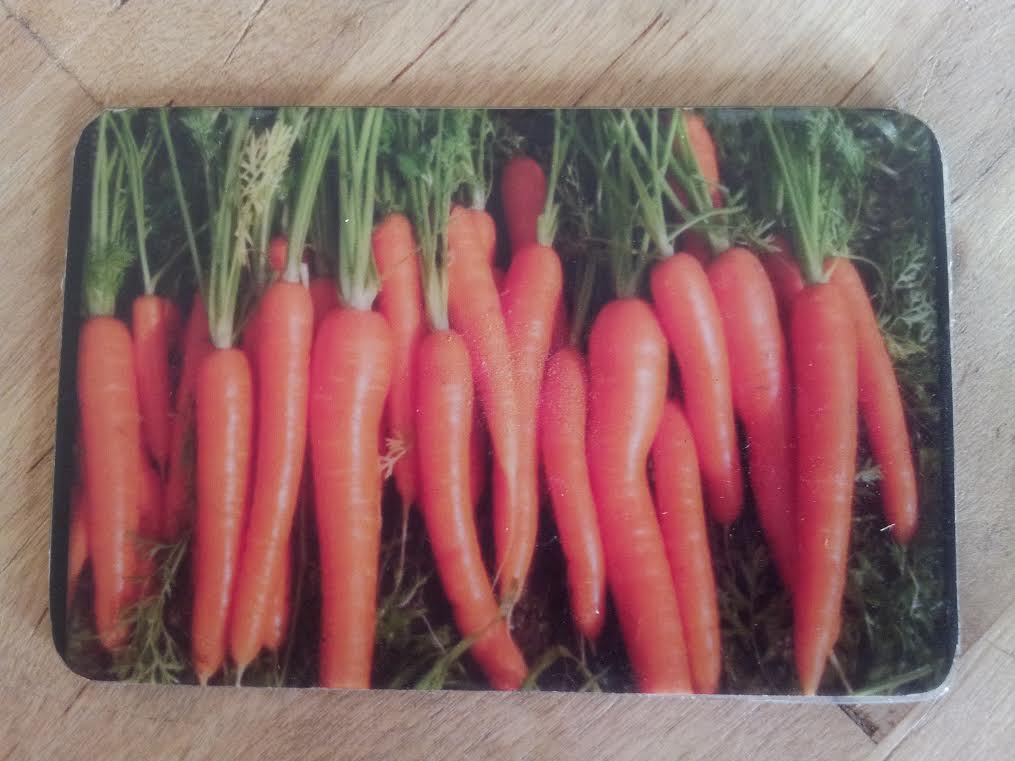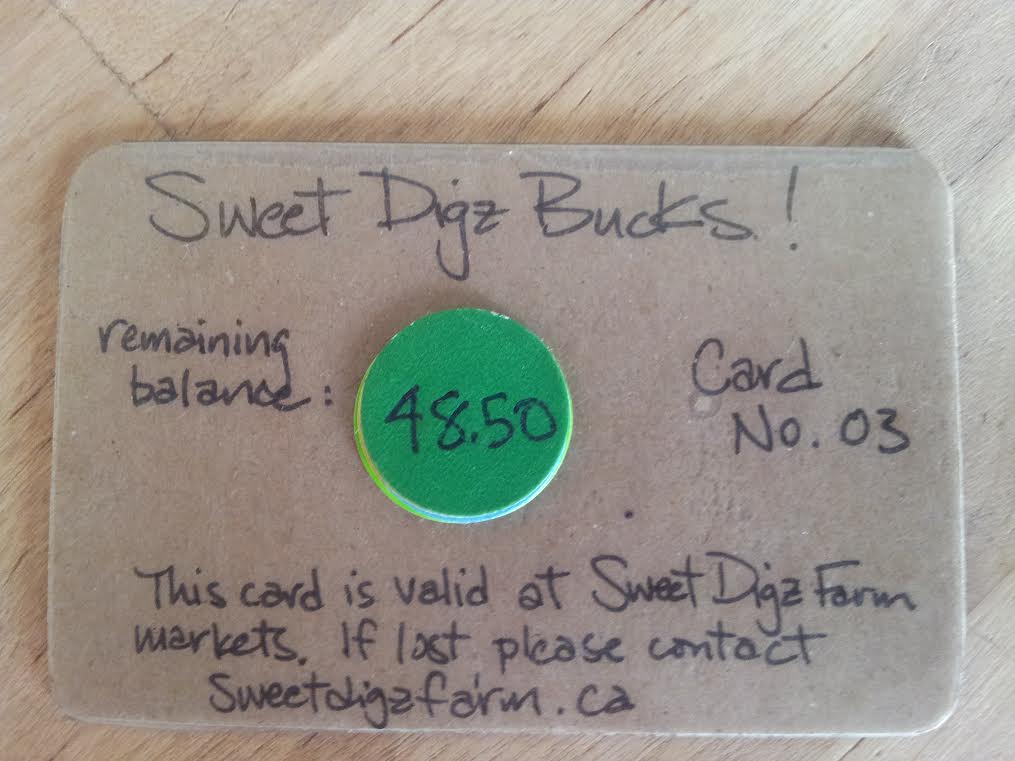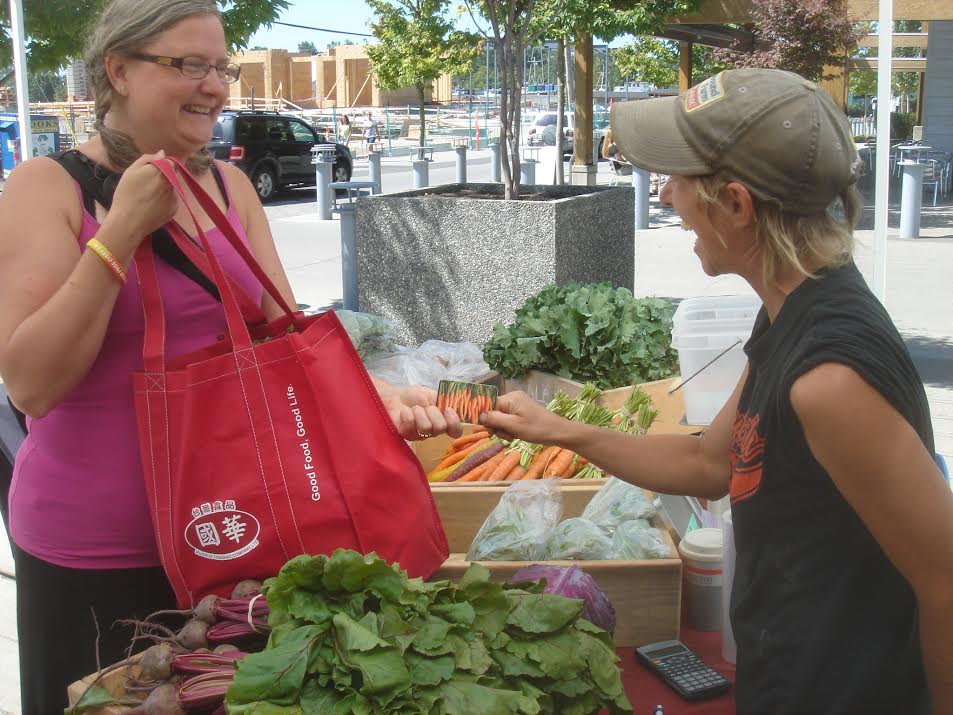 Irish Bank Strike story 1
1970 Ireland everybody had a local pub for watching sports or meeting after church
Banks went on strike for almost a year
paycheques became the currency then cheques in general
The pubs un-intentionally became bankers (endorsing good cheques)

but not cheques from risky clients (to avoid loss of reputation)

cheques circulated fast (hot potato game)
when banks reopened: few cheques bounced; hardly anyone had suffered from strike
Egyptian Ostracas story
Ostracon (pottery sherd with writing)
from the Chief Baker of the Temple of Amun at Thebes acknowledging the receipt of wheat.
The Holy Grail: paying local taxes in local currency

national taxes in interest-free national currency
High Middle Ages - Bracteates story
Michael Linton's Message:
make deals in multiple currencies
bypass banks: co-vest rather than in-vest (crowdfunding in CC)
use multi-currency apps for exchanges http://openmoney.cc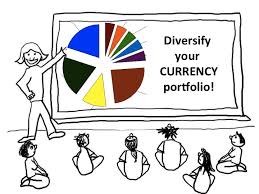 What about Counterfeit?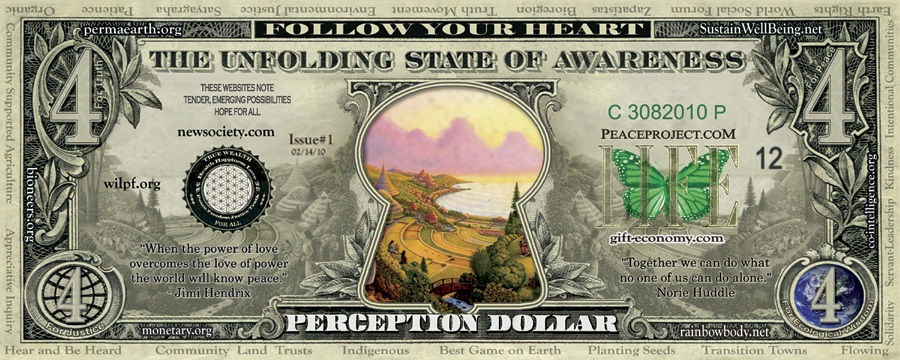 Now lets Review:
Money is:

agreements betweem members of a circle,
using currency lube
to transform their capital into forms
more aligned with the circle's mission

Permaculture Designers need to:

identify which circles (and stakeholders) are involved in the Design
identify or design appropriate initial currency
identify existing capital with ongoing ECOFIMAP 8-forms of capital inventory
continuously remind stakeholders of mission statement (or modify it consensually)
continuously measure yields and degree of alignment to mission statement
refine habits, rituals and routines to improve yields
find at least one matchmaker
if necessary, modify the currencies+matchmakers to improve yields
Matchmakers are a human or robotic form of currency
Transactions require a matchmaker + appropriate habits and rituals (rules)
Matchmaker operates a stake exchange so members can find their permacultural niche
Medieval Fair ; extension of Farmer's market and CSAs
Exercise: Design a medieval fair to help one of your circles obtain yields in a dry part of their mission
Pick a Circle (or combination of circles): what are their real mission statements (compare with their transaction trends)
setup a permanent ECOFIMAP system of their 8 forms of capital
tune the (perma)metrics that measure alignment of their ECOFIMAP with their mission
organize a fair to improve the (perma)metrics and engage at least one matchmaker
Mnemonic Inventory of Treasures: ECOFIMAP
E = Experiential Capital
C = Cultural Capital
O = Social Capital *second letter of sOcial (i.e. circle)
F = Financial Capital
I = Intellectual Capital
M = Material Capital
A = NAtural Capital *second letter of nAtural (i.e. All living things)
P = SPiritual Capital *second letter of sPiritual (i.e. Power)
for more: http://permametrics.org
stop here
Now : go and permaculturally design everything!
Problems with Canadian Dollar
fewer Canadians are able to make a living using it
It is encouraging rape of Nature (tar sands)
It is encouraging un-ethical trade (sweat shops)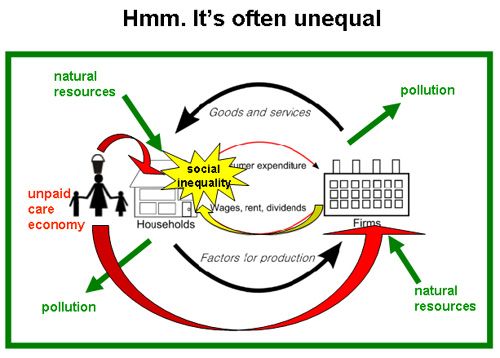 How all currencies are created
fiat: just print it (only 3% of CDN money + all of QE)
create currency with IOUs (new debts, pledges, promises)

credit card loans, mortgages
crowdfunding, fundraising pledges
work contracts, future farm/factory production

use currency to pay for goods and services up front
destroy currency by paying off debts, fulfilling promises
how do we win? zero balance, all needs met, all offers fulfilled
Example of Ponzi currency creation in $CDN
go to bank and offer an IOU in exchange for national currency
bank verifies our ability to redeem the IOU (calculated risk) in exchange for "interest"
interest has to be paid first

paying interest is a game of musical chairs
must generate ever more NEW goods + services, often by ripping off nature or people
massive debt, GHG, Tar Sands, pipelines, wars, mafias and tons of cool new stuff every year
the solution is:
interest-free currencies
bucket-list requests and offers
My angle:
The map is not the territory

adjust our money maps and make real change
Godel's Theorem: all maps are incomplete or contradictory
stories are just maps

Within the problems lie the solutions

when money is problem; multiple community currencies is solution
Tons of experiments going on, none mainstream yet
80% experiments fail but we are learning so much
Recent Experiments around the World
Chiralkines: Left and Right money ; measuring complete circularity of currency flow
Ripple: reducing the cost of (multi-currency) transactions to the bare minimum
ApplePay: multi-currencies (incl. loyalty currencies) but only those approved by apple
everyone will pay w/ their own promises & vote by accepting others'
Bitcoin
short movie explaining Bitcoin https://www.youtube.com/watch?v=t5JGQXCTe3c
website showing Bitcoin activity https://blockchain.info
government can see all the trades but it is much harder to block or force exchanges
much much cheaper cost of transactions
Other Crypto-Currencies
Dogecoin: fun and useful variant of bitcoin
Ecuador launches digital currency based on bitcoin after banning Bitcoin
Ethereum: smart contracts using Bitcoin Protocol
Types of UOM and IOUs
| | | |
| --- | --- | --- |
| Institutions | taxes, donations | health,education,security |
| Businesses | AR (invoices) | AP (bills, payroll) |
| People | Work Contracts, Real Estate | Mortgages, Loans |
| Nature | Carbon Offsets | Potential Resources |
Guillaume Lebleu's Aphorisms
One day, everyone will pay w/ their own promises and will vote by accepting others'.
If we all could express what we need/want and when, we wouldn't need any money. Just a good matching engine.
Money is the matching engine of our wants. It requires everything to be a multiple of a politically convenient object.
Economists owe ecology an apology
money is best described as an adjective, not a noun
reminder that 'money in the bank' is not 'your money', but a loan you made to the bank
Borrowing in someone else's currency is slavery. Freedom is borrowing in your own.
7 insights
1: All currencies are imaginary: Create them as needed!
2: with enough appropriate currencies, we live better lives
3: the community and ecosystem are involved in every exchange (barter seems selfish)

4: our currencies define us better than how we vote
5: the more our currency is circular: the wealthier we are
6: beware paradox of "measuring into existence" gift currencies
7: clearly communicate requests + offers to our communities